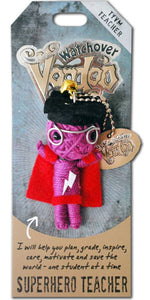 "I will help you grade, inspire, care, motivate and save the world-one student at a time."
Watchover voodoo keychains are a practical gift that adds a fun, personalized touch to backpacks, purses, luggage, car mirrors, and so much more.
These collectible string dolls also make the perfect gift for the people in your life: friends, family, coworkers, you name it!
Watchover voodoo doll is a positive good luck keychain for everyone!! Dimension: 4.5" h x 2.5" w x .75" d.